Expand Your Network. Boost Your Business with Our LinkedIn Leads Generation Services:
Looking to grow your business and generate more leads? LinkedIn leads generation refers to the process of identifying and connecting with potential customers or clients on the LinkedIn platform. This may involve using various outreach methods, such as messaging, email, or advertising, to introduce yourself or your business to users who may be interested in your products or services. The goal of the process is to generate new leads, establish relationships with prospects, and ultimately convert them into paying customers or clients.
We are a professional Digital Marketing company that specializes in lead generation through LinkedIn. Our team of experts is dedicated to providing you with a customized solution that fits your unique needs and goals. We will help you to expand your reach, connect with new prospects, and grow your business. Our approach is data-driven and results-oriented, ensuring that you get the most from your investment. With Boundless Technologies, you can expect a transparent and collaborative partnership that delivers high-quality leads and measurable results.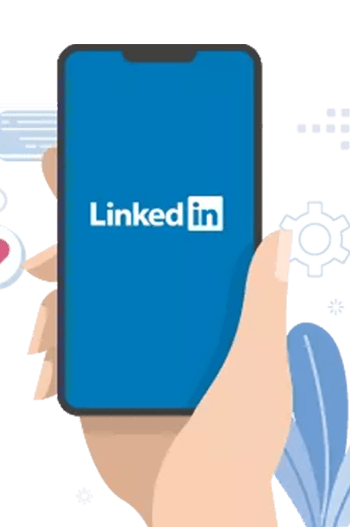 Connect with us for to get LinkedIn Lead Generation Services
Steps to Build LinkedIn Connections:
Finding relevant profiles:
The first step in LinkedIn lead generation is to identify the target audience that will be most interested in your product or service. You can use LinkedIn's advanced search feature to filter your search by location, industry, job title, and other criteria that align with your ideal customer profile.
Write an excellent note:
Once you have identified relevant profiles, it is important to have a thoughtful message that explains why you are reaching out and how you can add value to their professional network.
Send connection requests:
After crafting the perfect message, it is time to start sending connection requests to your targeted prospects. Use automation to send connection requests from your profile.
Automation for follow-up messages:
After sending the initial connection request and personalized message, it is important to follow up with those who accept your invite. For this purpose, you should create automation which will automatically send them two follow-up messages at different intervals after they connect
Benefits of LinkedIn Lead Generation Campaign:
LinkedIn is the world's largest professional networking platform so it offers an unparalleled opportunity to reach a highly targeted audience of professionals in your industry or niche.
LinkedIn users are typically more engaged and have a higher intent to build corporate connections than users on other social media platforms, making it an ideal platform for lead generation.
LinkedIn's advanced targeting options allow you to narrow your audience by job title, company size, industry, location, and more, ensuring that your ads are seen by the right people.
By engaging in targeted outreach and sharing valuable content on LinkedIn, you can increase your brand's visibility among relevant professionals in your industry
LinkedIn's analytics tools provide detailed insights into the performance of your campaigns, allowing you to optimize your targeting and messaging for better results.
Grow your LinkedIn Leads with us

Consistent Communication
We believe in keeping our clients informed every step of the way. We provide regular progress reports and are always available to answer any questions you may have.
Results-Driven
Our ultimate goal is to help you achieve your business objectives. We are dedicated to delivering measurable results that have a positive impact on your bottom line.
Frequently Asked Questions
Call now to get Lead Generation Package